WHEN YOU CAN'T WASH 'EM…WIPE 'EM!
PROUDLY CURATED IN DETROIT, MI
MADE IN THE USA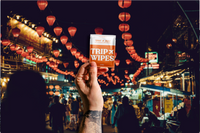 MADE TO TRAVEL
WHEN YOU CAN'T WASH 'EM….WIPE 'EM!
Trip Wipes are for everybody: conveniently and individually packaged, perfect for when taking a trip to the gas station, the gym, the grocery store, or to Greece. Put em in your pocket, purse or carryall.
1 MILLION WIPES
As of January 2022 we've decided to go BIG and pledge to donate 1,000,000 @tripwipes to homeless shelters, non profits, charitable organizations and communities in need.
Help Us Reach Our Goal
Know a non-profit that we should work with?
Email Doug
Our Products
Trip Wipes
The perfect way to keep safe & refresh on your travels. Each wipe KILLS 99.9% GERMS, smells incredible, softens your hands and exactly what you need. The non-toxic, citrus-scented essential oil blend was formulated, tested and perfected to create the ultimate travel wipe for everyone on-the-go. 
Shop Trip Wipes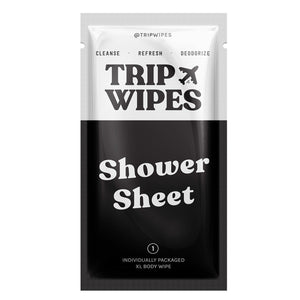 Shower Sheets
Supreme pre-moistened 11" x 9" towelette / Great for post workout, camping, hiking and everyday life.
Soft, gentle and irritant free; quilted XL wipe is extra thick for easy cleansing without soap and water.
Shop Shower Sheets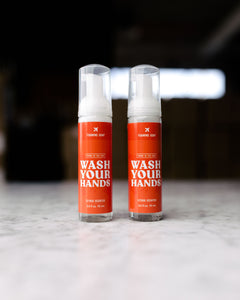 Foam Hand Soap
HAPPY HANDS BY TRIP WIPES
The worlds best foam hand soap
100 - 125 Uses
Our famous citrus scent
Shop Foam Hand Soap
TRIP WIPES COLLABORATIONS

Hand Health is #1
The T-Zone is the mucous membranes of the eyes, nose, and mouth. It is the portals of entry for respiratory and gastro-intestinal diseases. If we have germs on our hands, we can put those germs into our bodies when we touch our eyes, nose, and mouth "unconsciously".
This is how the majority of germs enter our bodies for respiratory and gastro-intestinal disease. Keeping our hands and fingers clean, especially when on-the-go, can stop that spread.
Trip Wipes for the WIN
Road Map to Sustainability
We are committed to creating a product that is sustainable and environmentally friendly.
Proud Partner with
Empowerment Plan
Breaking the cycle of homelessness through employment. Creating products for those in need.
We've teamed up to provide Trip Wipes & Shower Sheets for those with limited access to personal hygiene products.